November Topic: Community
Eating with others can not only lead to more nutritional consumption, but also can provide psychological benefits. Research has revealed that the more often people eat with others, the more likely they are to feel happy and satisfied with their lives.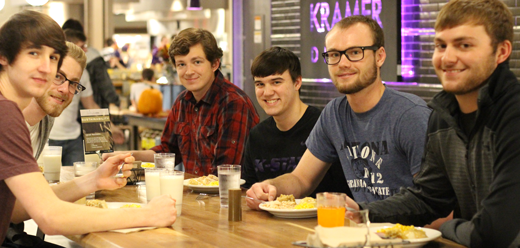 We know that your busy lives and hectic work schedules can make this difficult. It often seems easier to simply grab an on-the-go meal and head to your room, but we challenge you to make an effort. Make plans to eat with friends or simply sit down with someone new in the dining center.
Fall Superfoods
We're sure you've picked up on trendy food terms lately such as "superfoods," "local," and of course "healthy." So, why not mash them all up into one, literally? There are some great autumn foods to enjoy with friends and family.
Pumpkin and Butternut Squash
The two fruits otherwise known as gourds are nutritionally and texturally similar. The purée of either adds depth of flavor, vitamins and fiber to anything it touches. Dollop pure pumpkin in smoothies, oatmeal or pumpkin hummus.
Sweet Potato
Put down the marshmallows and the butter. Now, just grab one of the baked ones in your dining center and eat it up! Try piling them high with turkey and black bean chili, fajita vegetables, or loading them with kale (another great fall food).
Exclusively Kansas
Did you know that some of the food served in the dining centers comes from right here on campus? Dining Services has worked closely with the Department of Animal Sciences and Industry for years to provide a variety of products. Enjoy your meal knowing some of it was produced by your fellow K-Staters!
Ground beef and burger patties
Stew, fajita, and stir-fry beef
Ground pork sausage, links and patties
Milk
Ice cream
We also do our best to work with local and regional producers. Some products that come from our region include flour, waffle mix and sorghum.
Event: Exclusively Kansas: A meal made with Kansas ingredients
Nov. 14, 12 p.m., at Van Zile Dining Center
Nov. 15, 12 p.m., at Kramer Dining Center
Nov. 16, 12 p.m., at Derby Dining Center
In 2016, Kansas produced almost $3 billion worth of food exports. While beef and wheat are the staples of Kansas agriculture, we also produce vast quantities of corn, soybeans, sorghum and pork.