Cultivate You: Better World, Better You
About the Program
It's an exciting time in Dining Services! This fall semester, the dining centers will roll out a new menu program titled, "Cultivate You."
The foods, events and articles featured in the "Cultivate You" program will allow you to begin to rethink the choices you make in relation to your health, our K-State and Manhattan communities, and the sustainability of the practices used to cultivate those foods.
What can you expect to experience with this program? First, you will see a "Cultivate You" menu offered in each of our dining centers. The selections will vary but will come together to form a healthy meal option for you. We are creating many new recipes to feature more ancient grains, more locally sourced products, greater use of herbs and spices for enhanced flavor and more "good for you" fats and oils. There will be a variety of protein sources to include beef, poultry, fish, vegetarian and vegan options.
Where can you find these great foods?
Derby Dining Center: Classics Service Line
Kramer Dining Center: The Plate Service Line
Van Zile Dining Center: Pizza Serving Line
What else is involved?
Each month, Chef Jeffrey Maiden will be presenting a live demonstration in each dining center during a meal period. While Jeffrey will be addressing a variety of topics, you're invited to engage in conversation with him and have your questions answered and thoughts shared. The monthly topics will be supported by table tents filled with interesting facts along with nutritional information for you to use.
The "Cultivate You" program will also have a presence on Housing and Dining Services' social media sites, as well as here on our website. The information shared here will be constantly changing, so come back frequently.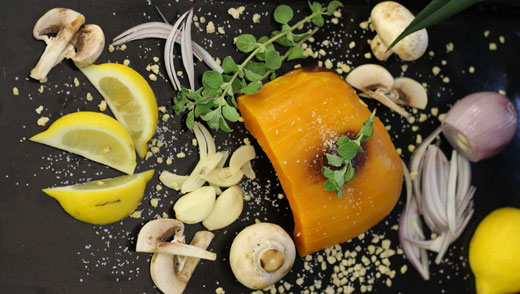 Our focus will be centered around three principles: wellness, community and sustainability. We want you to become active as the director of your own personal wellness. Now is the time to create good habits and a lifestyle that will cultivate a healthy you for a lifetime.
Look around your current surroundings and note how many different cultures are represented. While we want you to continue to enjoy and support your own family and cultural traditions, your time at K-State is a great opportunity to experience some differences and make new discoveries from your environment. We hope to expose you to new flavors, new recipes, new ideas, new events and new opportunities.
We all know we have an obligation beyond our community and out into our world to be the best stewards of the environment that we possibly can. With this program, we hope to increase your knowledge about how your food is sourced and produced. What are good practices for selecting sustainably produced foods? You can make an impact by the choices you make each day.
It's all about choices. You are in charge of the choices you make in our dining centers. Let us help you make informed decisions on your path to rethink your food choices to cultivate the best for you.