Housing and Dining Construction

Wefald Hall
Estimated completion
Residence Hall: Summer 2016
Dining Center: Summer 2016
Renovations: Fall 2016
Plans to build a new residence hall and dining center adjacent to the Kramer Complex were announced in May 2013 following approval from the Kansas Board of Regents. The new facility will be named Wefald Hall, in honor of former K-State president Jon Wefald.
The project includes construction of the new residence hall and dining center, plus renovations to Marlatt and Goodnow residence halls. Once complete, the four buildings will be connected by enclosed walkways.
Our Mission
Kansas State University's Wefald Hall will be the
focus of a modern community in which the campus
living, learning and dining experience is combined
and enhanced through state-of-the-art, student life
focused design. This dynamic, innovative residential
center will embrace the timeless traditions of the
university and serve as 
a safe, inviting and inclusive
environment that enables students to reach their
full potential as scholars.
Key Points About the Project
Residence Hall
540 beds; 129,000 square feet
Eight floors
Primarily two-student standard rooms with multiple single-use bathrooms on each floor
Rooms will be clustered together with dedicated study space in common areas on each floor
Smaller communities with fewer students for each RA to work with
Dining Center
Nearly 60,000 square feet with kitchen, preparation space and dining rooms
Designed to serve a student population of 1,850
Continue focus on from-scratch meals with additional concepts for cooking in front of patrons
Additional retail space and design for dining hour flexibility
More space for multi-purpose use, such as space for programming, student groups, etc., when meals are not being served
Architects

Treanor Architects' student life design studio will be the architect of record for the new facility, which will become part of the current Kramer Complex in addition to Goodnow and Marlatt residence halls.
Treanor Architects specializes in designs that support students' personal, social and academic success. In the past five years, the studio has planned, programmed or designed 45 student life projects totaling more than $1 billion in construction dollars. These projects include student housing on campuses such as Texas A&M University, the College of William & Mary and the University of Missouri.
Treanor has contracted with two specialty consultants to assist with the dining center's design: Mesher Shing McNutt and Ricca Newmark Design.
---

Mesher Shing McNutt is an architecture and interior design firm that focuses on foodservice concepts. It has designed several notable dining projects, from the award-winning Turner Place at Virginia Tech to facilities for Starbucks, Microsoft, Amazon, Michigan State, Princeton and UC Berkeley.
---

Ricca Newmark Design specializes in foodservice programming, planning and kitchen equipment design, and will provide design assistance for the kitchen and foodservice areas. The company has designed state-of-the-art kitchens worldwide, with recently completed projects at Dartmouth College and the University of Wisconsin.
---
View the architects' past work:


Sustainability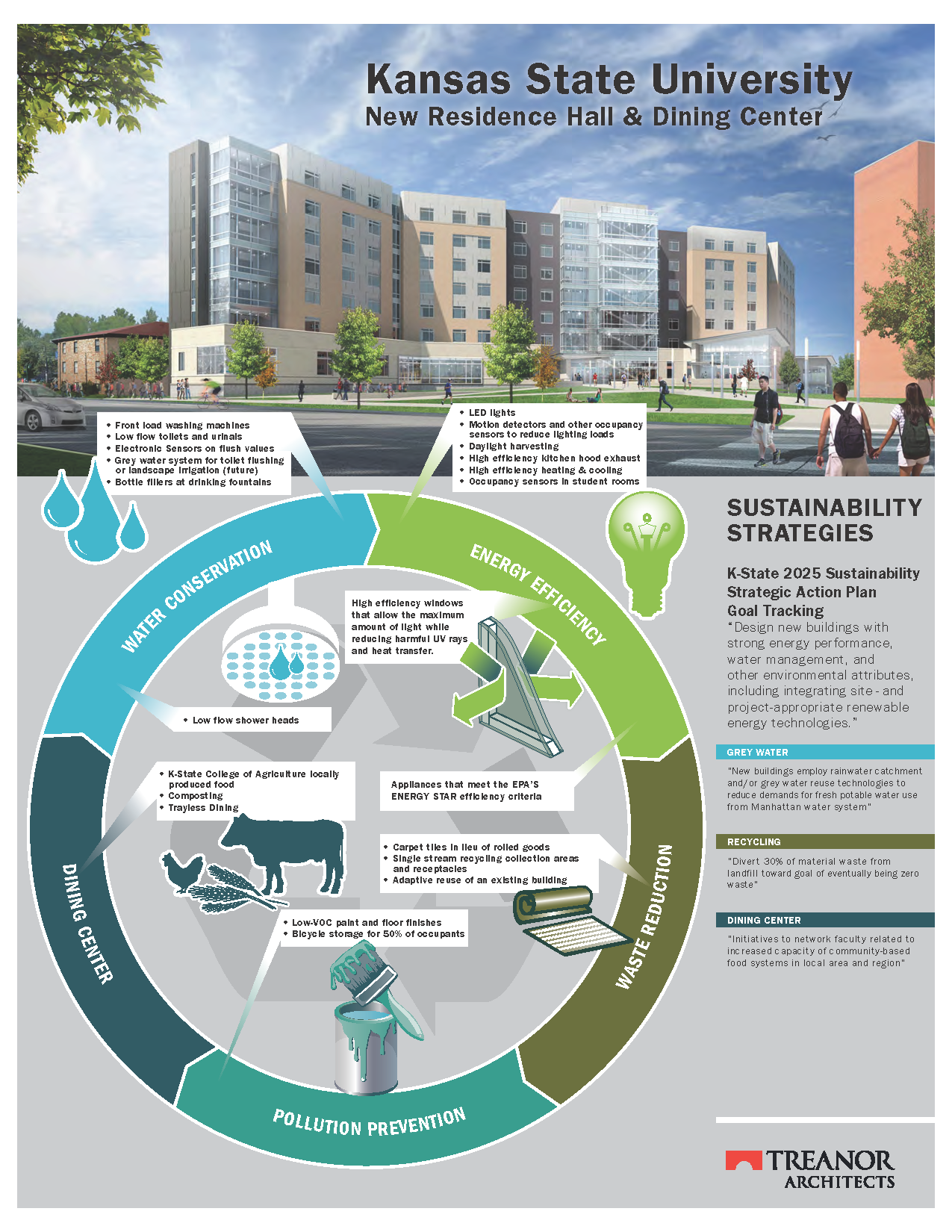 Feedback

We want to hear from you! Send us your questions, comments or concerns.