Residence Hall Fall 2022 Move-In
Welcome Home!
The staff of K-State Housing and Dining Services is pleased to welcome you to our campus community and your new home away from home!
This information is tentative and should only be used for general planning. As details are finalized this summer, updates will be posted here.
A note for parents, guardians and families: you may or may not receive all the same communication your student receives. Please encourage your student to begin regularly checking their K-State email address. Please also plan to join us for a webinar for parents and families to discuss Move-In at 6 p.m. on Tuesday, July 19.
Residence halls open Wednesday, Aug. 17, 2022 for the academic year. Students planning to arrive early may move in as early as Sunday, Aug. 14, 2022 for an additional fee of $50.00/day for each day prior to the official opening day.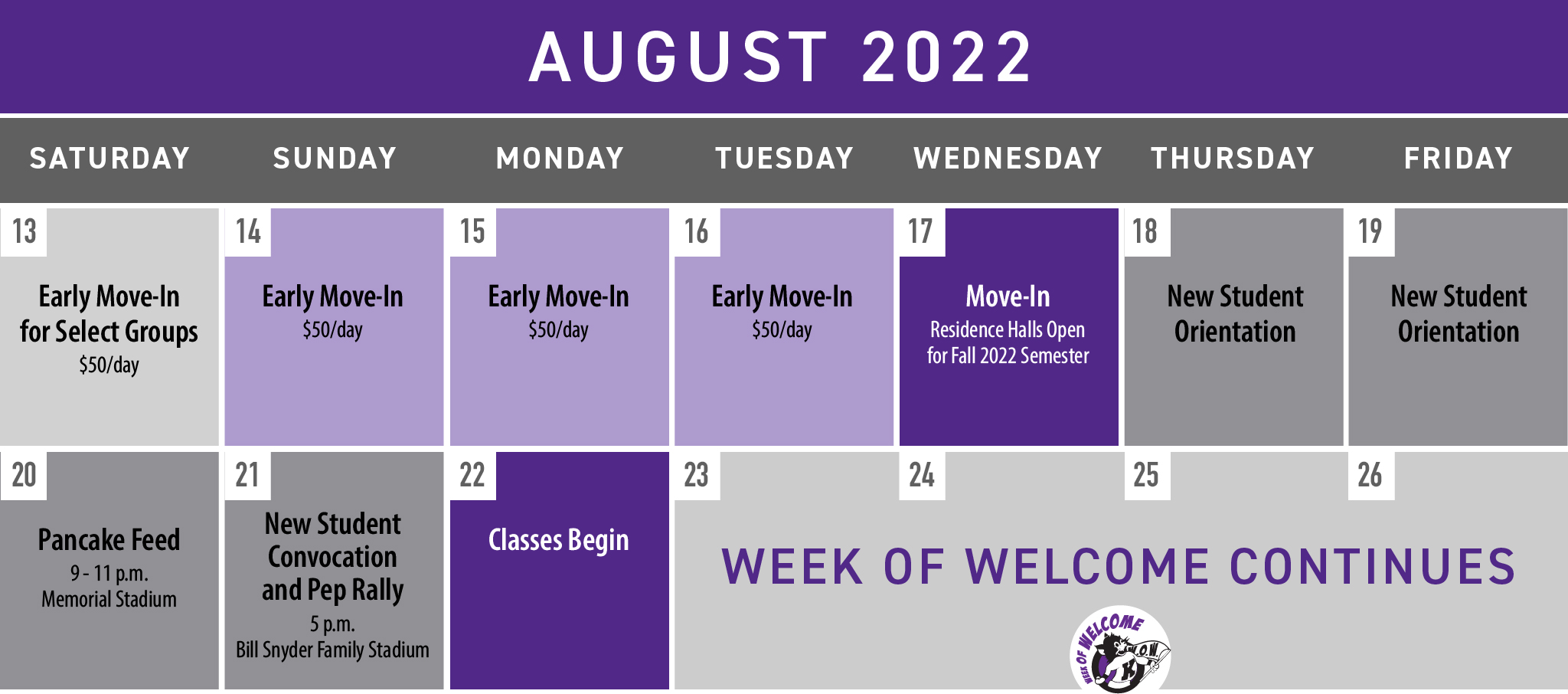 Appointments:
Housing and Dining Services will send notification to all residents via their K-State email when move-in appointments are available. Residents can anticipate receiving this email the first full week of July. All residents are required to complete the required information and create a check-in appointment.
Early arrival groups (e.g. Marching Band, sorority recruitment) are working directly with Housing and Dining Services to have pre-scheduled move-in appointments. All residents that are a part of these groups must also complete the initial steps of the check-in form.
Residence Hall Handbook and Calendar
The residence hall handbook includes important policies and procedures. Residents are responsible for adhering to the terms of the handbook, including the procedures specific to COVID-19.
Each resident should review the
Residence Hall Handbook
in its entirety. The updated calendar with important dates is included in the handbook as well. The calendar is updated yearly in late June or early July.
Before Your Move
Preparing for Move-In
Pack your items in boxes or totes which are easy to move and carry. Please be sure to label your items so they do not get mixed up. The doors throughout the residence halls are standard size.
Please bring your own cart or dolly to help expedite your move. Housing and Dining Services has a very limited supply of carts and dollies available for use.
Mail and packages: Housing and Dining Services is not able to accept packages/mail for residents prior to Sunday, Aug. 14, 2022. If ordering items for delivery, please keep this in mind.
Each room is equipped with standard furniture:

XL twin bed - all beds are able to be bunked or lofted and the correct equipment to do so is provided

Frame can be mounted on the ground up to 70" high with adjustments available every 3"
81" internal frame, 86" external frame. about 7" thick mattress (depending on mattress type present)
Ceiling is about 8' high

Desk - 30" high, 24" deep, 42" wide, with a 1.5" deep drawer and two 7 or 8" shelves
Desk chair
Two-drawer dresser - 30" high, 24" deep, 30" wide, 5" deep drawers
Closet - 36" wide, 18" deep shelf
All provided furniture in the room must stay in the room
Students are welcome to bring futons, sitting chairs, etc.
Shower curtains (for students living in suites)

Many students living in suites choose to bring their own shower curtains. Housing and Dining Services does provide shower curtains and students living in suites may request one at the front desk during move-in.
Regular shower stalls utilize curtains that are 54"x78" or 36"x72". Shower curtains of these sizes may be found online or at retailers.
Once the check-in sign-up is available, we highly recommend you choose one as soon as possible. Some days/times will fill up quickly for some residence halls. If needed, students can change their day and time in the system until 5 p.m. the day before arrival. Please do not arrive to check in on a day or time different than what you selected. We are unable to accommodate those without a check-in time or those arriving off-schedule.
Please be mindful of the number of items you bring with you — help us get everyone in and settled as quickly as possible.
Parking and Vehicles:
Please be sure to print your appointment confirmation (one copy for each vehicle you bring to unload). You can find this confirmation in your K-State email inbox, or on the check-in site under "View/Print Appointment."
Please write your phone number on the confirmation page. This confirmation page should be placed on your dashboard while you are moving in.
This is NOT a permanent parking permit. It is only for Move-In.
If you are bringing a vehicle for the semester, purchase a residence hall parking pass from K-State Parking Services. Your pass will be mailed to your hall's front desk, so if ordered a few days before you arrive, your parking pass may be available for pickup at your residence hall check-in appointment.
If bringing a bicycle, complete the free registration form to receive your bicycle permit.
eID and K-State ID Cards:
Please memorize your eID (this is the first part of your K-State email address) and password, as you will need it to log into the system when you check in. If you do not remember your password, please reset it and create a new password before you arrive.
Apply For Your K-State ID Card if you haven't yet. All new incoming students need to apply for a K-State Wildcat ID card prior to your arrival through the following process:
Visit the K-State ID Center webpage.
Click on "New Student Wildcat ID."
The ID Center will review your application and send an email to your K-State email address.
If ordered in advance, your new ID may be available for pickup at your residence hall check-in appointment. Please bring a valid state or federal-issued photo ID (i.e. driver's license or passport) for verification.
Financial Aid and Student Accounts:
To make financial transactions at the University easier, it is recommended residents sign up for direct deposit (EFT). This is particularly helpful if the student is expecting money from financial aid, needs to make a payment to the University or receives money back from the University.
Some students may have assistance in paying for college and the student may grant access to specific people via KSIS. This can be completed through the designated access feature.
During Your Move
Upon arrival at the residence hall, only the student should enter the main front doors of the hall first. Staff will show you where to check in and get your keys. When you have your keys, you may begin moving in and your family/guests may begin assisting you inside the building.
Please make sure the temporary parking pass you received via email is showing in your dash with your phone number clearly visible.
You have 30 minutes to unload your vehicles and move them to one of the larger lots near the hall (see the maps for locations).
Please help us maintain a quick process by moving your vehicle immediately after unloading.
For your convenience, please bring your own dolly or cart if you can. Our carts are limited in number.
We're asking all students and visitors to assist us in maintaining efficiency of the check-in process. You can assist by:
Keeping items in your room to allow for maximum traffic flow.
Using stairs throughout the building when possible.
Breaking down all cardboard and removing all recycling and trash by placing it in dumpsters outside the building (staff can provide directions).
Quickly moving your vehicle(s) away from the loading zones and into the larger lots.
We are not limiting the number of people who can assist you during Move-In, but we encourage you to bring as few as possible.
If you need assistance with bed lofting, unlofting, bunking, getting a shower curtain for your bathroom (suites only), or other maintenance requests, please visit the front desk or your resident assistant for assistance. After arrival, you may also submit a housing maintenance work order request through the Resident Portal. Maintenance staff may not be able to complete the request until the next business day.
After Your Move
Floor meetings for students arriving before or on Aug. 17 will take place on Wednesday, Aug. 17. Ask your RA about the meeting location or look for signs placed throughout your floor. An Additional floor meeting will be offered later in the week for students arriving after Aug. 17.
Know when and where to eat! We recommend that you familiarize yourself with our dining center locations, menus, and hours. Meals for move-in week will begin with breakfast Monday, Aug. 15. Kramer Dining Center will be the only dining center open until the evening of Aug. 17 when Derby Dining Center will open. Students are able to eat at either dining center when open. Follow our Dining Services updates on Twitter or Facebook for more information.
Your Wildcat Welcome
All students are invited to participate in
Your Wildcat Welcome
events. These free events kick off Wednesday, Aug. 17, continue through the first week of classes and are designed to help you gear up for your K-State experience.
Your next step is to register!
Each day of in-person orientation will feature theme-based events and programming designed to help you get to know K-State's student services, traditions, resources and your fellow students.
Here's a sampling of opportunities that will be available to you:
Welcome activities

Academic college orientations

Walk your class schedule

New Student Convocation (your official, formal welcome to the university)

Student Success resource fair

And much more!
We can't wait to welcome you to K-State!
Quarantine Requirement
Please be sure to review the most recent quarantine requirements from
KDHE
. Contact our CARE team if you have questions.

For more information about isolation and quarantine guidelines, please view K-State's COVID-19 webpage.
Help Ensure a Safe Return to K-State
Each K-Stater has a role in illness mitigation. By taking simple steps to care for your yourself and those around you, you can do your part to support the university's efforts to begin — and maintain — an in-person fall semester. Specific actions you can take are:
Wash your hands frequently and follow good hand hygiene practices.
Follow physical distancing guidelines.
Stay home as much as possible the two weeks before classes start.

Know the

symptoms of COVID-19

and self-monitor for them.

Prepare a wellness kit with items such as hand sanitizer, a thermometer, bandages, fever reducers, cough drops, etc.