Resident Resources
Welcome to K-State! Housing and Dining Services is pleased you have chosen to become a part of our community. The following links should help you familiarize yourself with our residence halls and assist you as you move in. You'll also find links to a variety of forms relevant to living on campus.
We urge you to review your copy of the residence hall contract for specific contractual obligations. Please contact us if you have questions.


Helpful Links
Residence Hall Handbook
The handbook contains answers to virtually any question you may have about living in our residence halls. Check here first!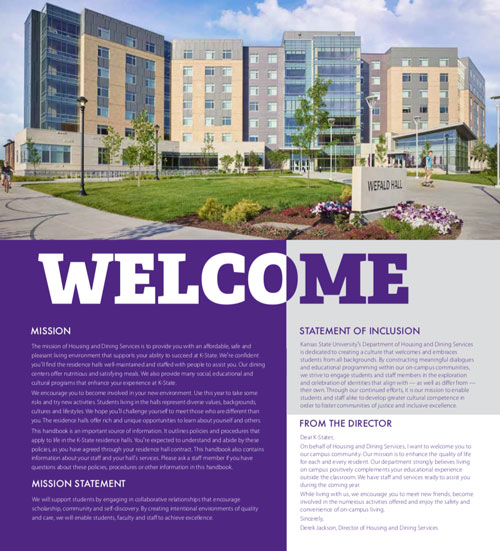 Additional Resources
Roommate Conflicts
Living with someone you barely know can be a challenge! Even lifelong friends can experience problems from time to time. This is completely normal, and over the years we've found that these problems can be worked through without the need for relocation.
When you move in to your on-campus living space, you and your roommate(s) will be asked to complete a roommate agreement. This document outlines expectations for cleaning, guests, noise, and other aspects of cohabitation that have the potential to cause conflict between roommates. We hope this proactive approach will prevent problems, but should they occur, your hall staff are happy to counsel you through them. Let your RA know if you're having troubles before they get out of hand!
Students with Disabilities
Accommodations are available for students with disabilities. Contact the Student Access Center for additional information. Accommodations cannot be made without proper documentation submitted to the Student Access Center. Current students should contact their building staff regarding specific needs.
A shuttle service for residents with disabilities is available on campus, including residence halls. Contact the Student Access Center for additional information.
To park in accessible parking spaces at the residence halls, students with disabilities must have both a state permit and a residence hall parking permit.