Graduate Assistantship
Become an assistant coordinator!
Kansas State University prides itself on tradition and its environment filled with people who genuinely care. We call it the K-State Family. The Department of Housing and Dining Services is looking for dedicated graduate students to join our family. Take some time and explore the information about our assistant coordinator positions to decide if Kansas State University is a fit for you. We hope you'll consider applying!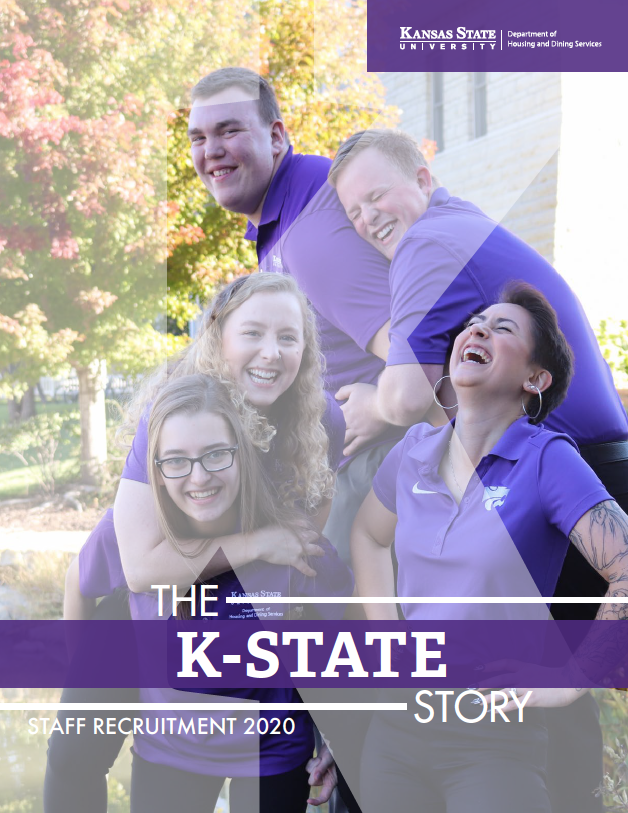 Interested in More Information?
Fill out our Graduate Assistantship Interest Form and sign up for our K-State Housing GA Newsletter.
You can also see what the job is like first-hand by following us on Instagram!
View past K-State Housing GA Newsletters.
Zoom Info Sessions
Join us by Zoom 6 to 7 p.m. on Wednesday, Nov. 16 or 5 to 6 p.m. on Tuesday, Dec. 6 for more information about the Graduate Assistantship positions available in Housing and Dining Services.
Interested in pursuing a Master's Degree in College Student Development? Join the K-State College of Education by Zoom for an info session at 7 p.m. (CST) on Wednesday, Nov. 30.
How to Apply
If you are interested in any of our graduate assistantships, please submit the following.
Résumé
Unofficial transcript
Contact information for three references
Background check is required.
Contact information
Jessica Jones
K-State Housing and Dining Services
104 Pittman Building
1531 Mid Campus Dr. North
Manhattan, KS 66506-4601
Email: reslife@k-state.edu
Phone: 785-532-6453
Fax: 785-532-0300
A Day in the Life of Jordan: Graduate Assistantships at K-State