Housing and Dining Services

Campus Living at K-State: Among the Best Nationwide
Once again, Housing and Dining Services finds itself among the top 20 schools in The Princeton Review's 2020 edition of "Best 385 Colleges," best residence halls category. Thanks so much to our hardworking staff, who make campus living at K-State such a great choice!
Read the report for the many other categories in which our university placed.
---
Winter Break Hall Closings, Savor the Season Dinner, More: December On Campus
Read the December HDS Newsletter for all the details.
---
Residence Hall Contract Available Dec. 5: How to Proceed
If you're not currently living in one of our communities but would like to sign up for 2020-2021 academic year housing in one of our residence halls, please follow the steps outlined below. (Students must be admitted to the university with a verified K-State eID to complete these.)
First, here's a step-by-step guide to help you visualize the steps. There's also this guide that was emailed to everyone who completed the Housing Information Form.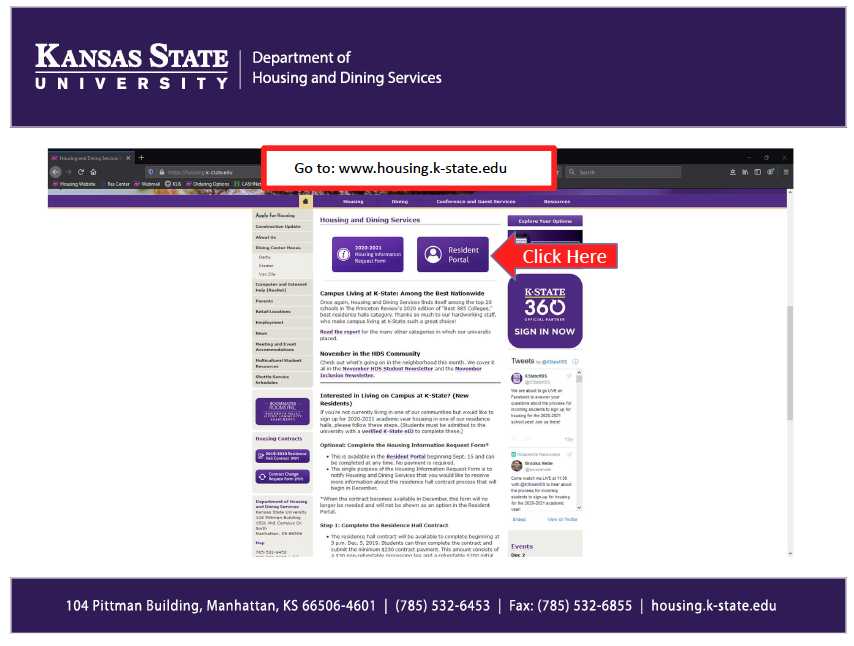 Step 1: Complete the Residence Hall Contract
The residence hall contract will be available to complete beginning at 3 p.m. Dec. 5, 2019. Students can then complete the contract and submit the minimum $230 contract payment. This amount consists of a $30 non-refundable processing fee and a refundable $200 initial payment.
Contracts will not be processed or considered complete until the initial payment is made. A verified K-State eID and password is required to complete this process.
If you have questions or concerns about the contract payment, please contact the Housing and Dining Services office for assistance.
The date and time a student completes the residence hall contract will determine their place in line for the room selection process in May.
Step 2: Explore Your Options
Step 3: Choose your Living Experience
Residents who are enrolled in a Residential CAT Community will begin to choose their living experience April 15.
All other new residents will begin to choose their living experience in May. Notification with your selection date and time will be sent to your K-State email in early April.
Already Live Here and Wish to Return for 2020-2021?
If you're loving your campus home-away-from-home and want to reserve your space (or another space) for the 2020-2021 academic year, the Choose Your Experience process is coming up. Watch your email in November for more information — we'll send details in the HDS newsletter as well as in a separate message. Your RA and community coordinators will also be working to ensure you understand the process and timeline.
As always, we're here to answer your questions. Call us at 785-532-6453 or email housing@k-state.edu.
---
What's Going on at The Derb?
Derby community residents have no doubt noticed that the Derb is under construction. The good news is that we're about to have a remodeled dining center — exciting! The bad news is this process will inevitably create some inconveniences, but we're working hard at minimizing those.
Nov. 20, 2019 — In order to accommodate the timeline our contractor needs to complete renovations, Derby Dining Center will close for the spring semester following spring break. The last meal served in Derby will be dinner Friday, March 6. Housing and Dining Services has implemented several changes to ensure meal options are provided for students during the closure. Read more.