Housing and Dining Services
Residence Hall Contract Currently Available: How to Proceed
If you're not currently living in one of our communities but would like to sign up for the 2022-2023 academic year housing in one of our residence halls, please follow the steps outlined below. (Students must be admitted to the university with a verified K-State eID to complete these.)
First, review the contract webinar below that walked through accessing and filling out the housing contract for new, incoming students. We also recommend that you review the contract terms and conditions (PDF) before signing.
Step 1: Complete the Residence Hall Contract
The residence hall contract will be available to complete beginning at 3 p.m. Dec. 7, 2021. Students can then complete the contract and submit the minimum $230 contract payment. This amount consists of a $30 non-refundable processing fee and a refundable $200 initial payment.
Contracts will not be processed or considered complete until the initial payment is made. A verified K-State eID and password is required to complete this process.
If you have questions or concerns about the contract payment, please contact the Housing and Dining Services office for assistance.
The date and time a student completes the residence hall contract will determine their place in line for the room selection process in May.

Step 2: Explore Your Options
Step 3: Choose Your Living Experience
Residents who are enrolled in a

Residential CAT Community

will begin to choose their living experience mid-April.
All other new residents will begin to choose their living experience in May. Notification with your selection date and time will be sent to your K-State email in early April.
July 1, 2022 is the last date to make changes to in the Resident Portal.
Already Live Here and Wish to Return for 2022-2023?
If you're loving your campus home-away-from-home and want to reserve your space (or another space) for the 2022-2023 academic year, the Choose Your Experience process is coming up. Watch your email for more information — we'll send details in the HDS newsletter as well as in a separate message. Your RA and community coordinators will also be working to ensure you understand the process and timeline. Visit the Choose Your Experience section of our website to get started.
As always, we're here to answer your questions. Call us at 785-532-6453 or email housing@k-state.edu.
---
K-State requiring first-year Manhattan campus students to live on campus beginning fall 2022
To contribute to student success, first-year students on Kansas State University's Manhattan campus will be required to live on campus during their first two semesters beginning in fall 2022.
"National research and an analysis of university-specific data both show a statistically significant difference in the first-year retention rate and cumulative first-year grade point average between students who lived on campus versus students who lived off campus," said Thomas Lane, K-State vice president for student life and dean of students. "K-State first-year, full-time students living on campus average higher GPAs, stay in school in higher numbers and graduate faster."
Students may apply for an exemption to the policy. Additional information on eligible exemptions is available. The exemptions application process will go live in December.
---
Housing and Dining Services App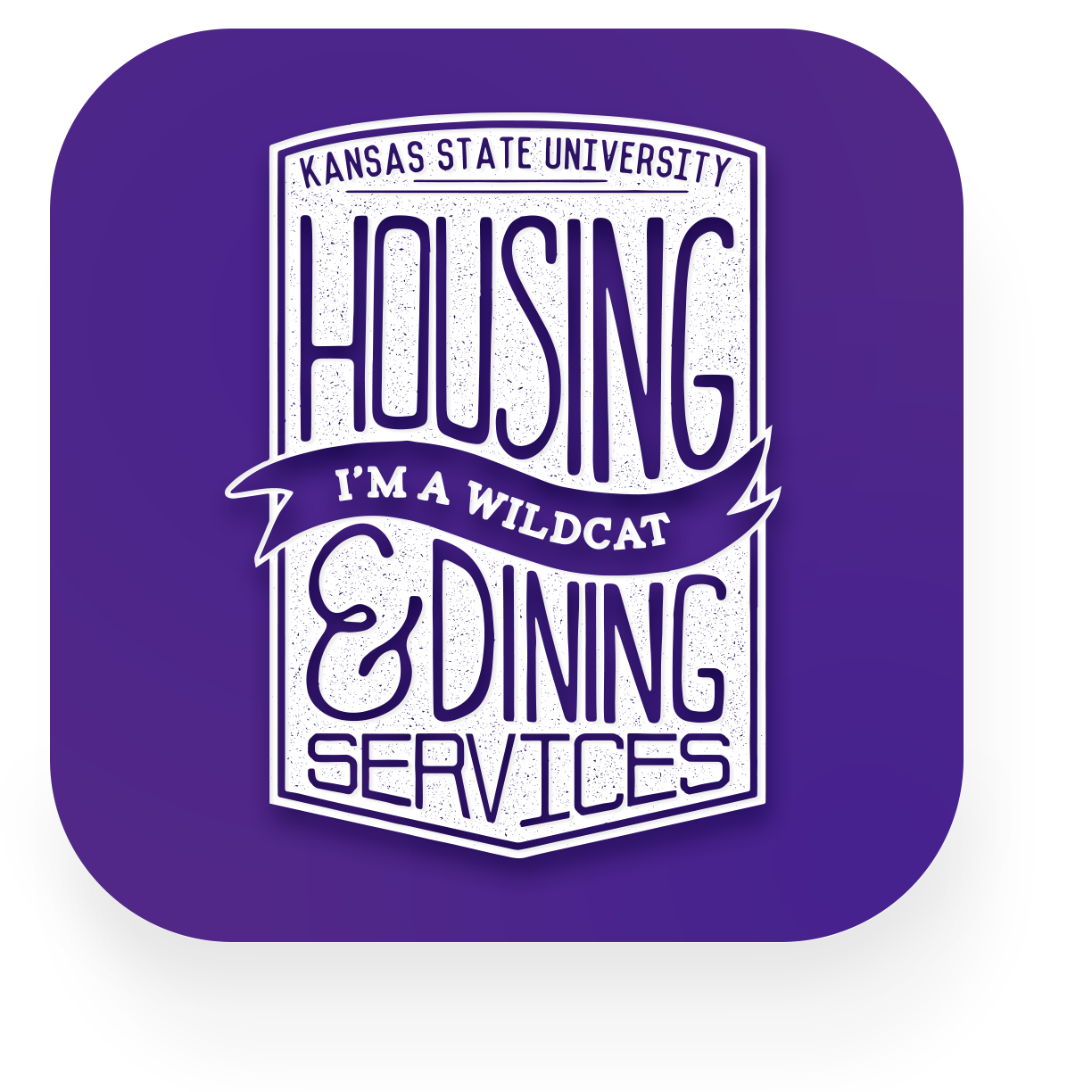 Housing and Dining Services now has an app! With the new K-State HDS mobile app, easily access the dining center menus, view your meal, Cat Cash and Dining Dollars balance at a glance, check in or out of your residence hall or apartment and file a work order.
More functionality will be added throughout the year. Download it on the Apple App or Google Play Store today!
Thank you!
We're here to answer your questions. Call us at 785-532-6453 or email housing@k-state.edu.