Former Department Directors
A. Thornton Edwards, 1948-1974
What is known today as the Kansas State University Department of Housing and Dining Services began in 1948 as the Department of Housing, located in Anderson Hall.
A. Thornton Edwards served as our first director, and his two and a half decades of leadership helped shape the department into the nationally recognized program it has become.
Mr. Edwards was admired and respected by his peers and students. Director Derek Jackson ran into Jerry Quick, a former colleague of Edwards', at a recent Association of College and University Housing Officers-International conference. Quick was receiving the ACUHO-I Award, the association's highest recognition of a member for outstanding contribution to the field of campus housing and food service. (Edwards won the award in 1975). It occurred to Jackson that recording Mr. Quick's memories of our former director would be a timely and appropriate project as we celebrate K-State's 150th year, and contacted him shortly after the conference. Following are his comments, along with comments from current HDS staff who knew him.
HDS: Can you tell us a little about yourself? What is the nature of your involvement in ACUHO-I?
Jerry Quick: I spent 38 years in higher education administration at four institutions (Indiana State University, Central Michigan University, Vanderbilt University and The University of Alabama in Huntsville). The last 11 years I served as vice president for finance and administration. In my career I either worked directly in housing and food service operations or they reported to me.
I started attending ACUHO-I meetings in 1965 as a young professional and quickly became involved in program presentations, panel presentations and committee membership. Later I served as secretary of the association for three years, followed by four more years on the executive committee as second vice president, first vice president, president and past president. This past June at the annual conference I received ACUHO-I's highest award, the ACUHO-I Award, much to my amazement. I have been retired for 13 years and did not think folks remembered my involvement in the association. It was wonderful seeing some old friends and meeting new people like Derek Jackson.
HDS: How did you know Thornton Edwards?
Jerry Quick: My boss at Indiana State, Cletis Shouse, and Thornton Edwards were close friends. Cletis and Thornton always met early at the annual ACUHO conference and I tagged along. Both were very intelligent individuals but with a special self-deprecating sense of humor. It was great to listen to them tell stories and jokes and share professional endeavors. I probably learned as much or more from listening to those two highly skilled administrators as I did in many of the program sessions, along with some great jokes. Thornton Edwards never bragged about what they were doing at Kansas State but he was always light years ahead in providing the best possible housing and food service operations for KSU students. He was always concerned about the best possible customer service for students. His ideas were brilliant but you had to ask the right questions to get him to expand on the ideas he and the team at KSU had implemented. I was able to implement many of his ideas in my own areas of responsibility. He often shared what he had done to diffuse difficult situations with students. He reminded me of a very masterful psychologist. That kind of sharing on his part with a young professional was wonderful for my professional growth.
HDS: Can you provide us with your memories of him and his leadership style, methods and values?
Jerry Quick: I should have read this question before I answered the last one! Refer back to that one for part of the answer. As I look back on all the folks I met and worked with in the housing and food service profession Thornton Edwards ranks as one of the very best. Positive values and ethics have slipped at so many levels in our country in the past few decades. When I think of the values and ethics Thornton exhibited through his daily endeavors both at KSU and on the national level I want to bronze him as an example of what all leaders should emulate. My boss, Cletis Shouse, was always so impressed with what Thornton was doing at Kansas State that he encouraged Thornton to do a program presentation at the next ACUHO conference. If I remember correctly Cletis was on the Program Committee chaired by Dick Armstrong who was the director of housing at Nebraska. Dick spent time with Thornton and he reluctantly agreed after much prompting. I mentioned previously that Thornton was not one to "toot his own horn." Thornton shared a draft with us and asked for our comments. The title was "Reminiscences and Prognostications" (PDF). It was both a history and also what might be a typical day in the life of a housing director. I was so impressed with what he had put together.
HDS: I understand that Mr. Edwards and his wife managed a retail store in Yellowstone following his retirement.
Jerry Quick: Thornton and his wife were not the type of folks who would retire and sit in rocking chairs. They were active in their church and in other ways. When an opportunity presented itself for them to manage one of the stores in Yellowstone they jumped at the opportunity. It was an opportunity to use their customer relations skills and meet and talk with people all over the world. They lived in housing provided by Yellowstone and I am sure Thornton might have had some suggestions about their housing operations! My wife, Betty, and I visited with them at least twice during the time they worked in Yellowstone and had a wonderful time reminiscing.

Associate directors John Pence and Mary Molt also remember Thornton Edwards.
"Thornton was always professional and hospitable, personally walking prospective students around to tour the facilities," said Pence. "He ran a lean operation with relatively few employees in the administrative office, and was conservative with rate increases."
Molt agreed that he was friendly and proud of the quality service our department provided. "He loved to eat in the dining centers," she said. "Especially on Sundays."
Thomas J. Frith, 1974-1990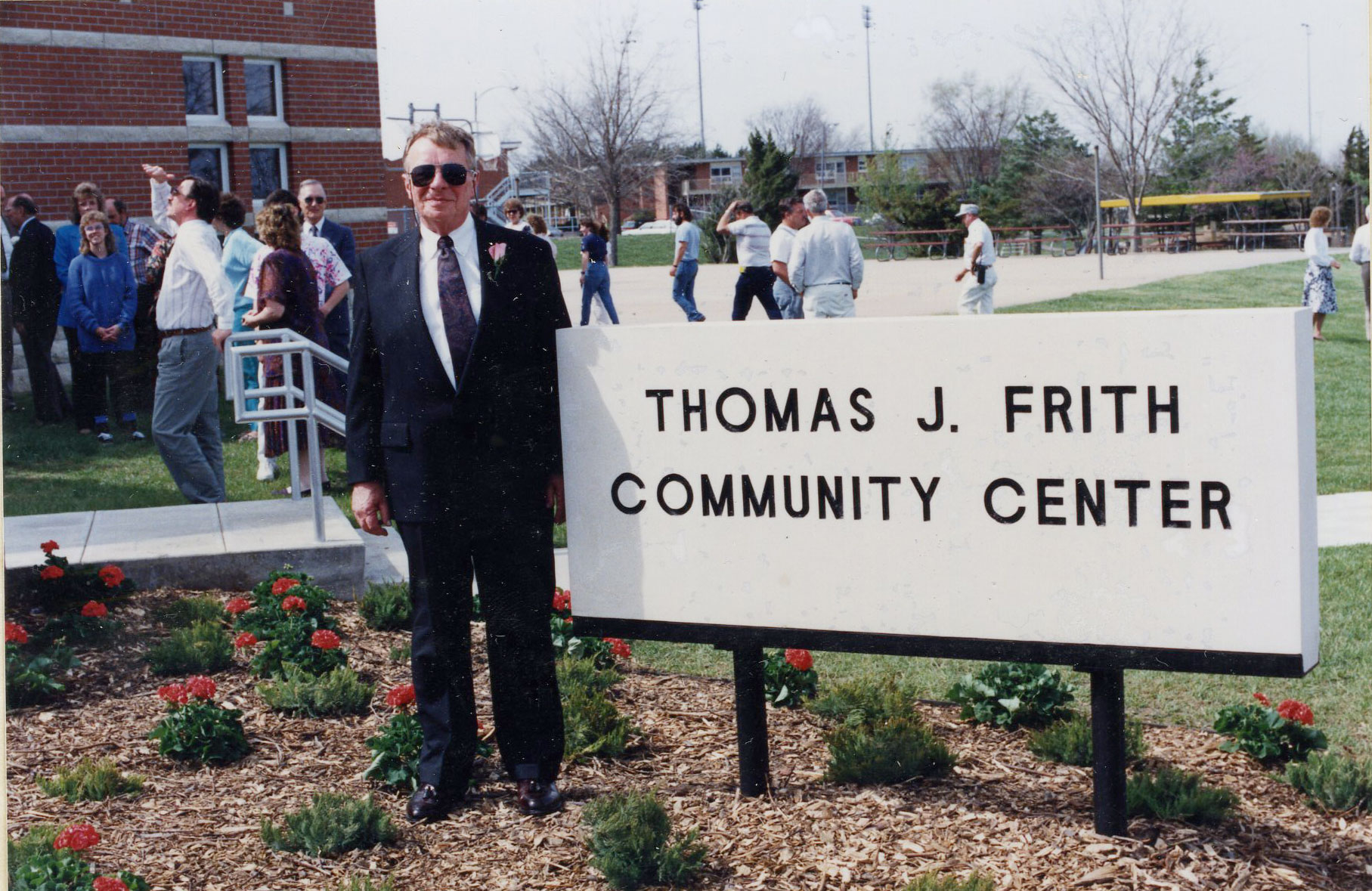 "Tom Frith was always interested in good food and how it was prepared. He often commented on something he ate in the dining center and wanted me to pass along his accolades to the production staff." — Mary Molt, associate director
Thomas J. Frith directed the department from 1974 to 1990. As the department grew, challenges were met with perseverance and positivity. Here are a few of the highlights from our archives.
K-State Housing and Dining Services offered the highest value in the Big 8. (Larger image)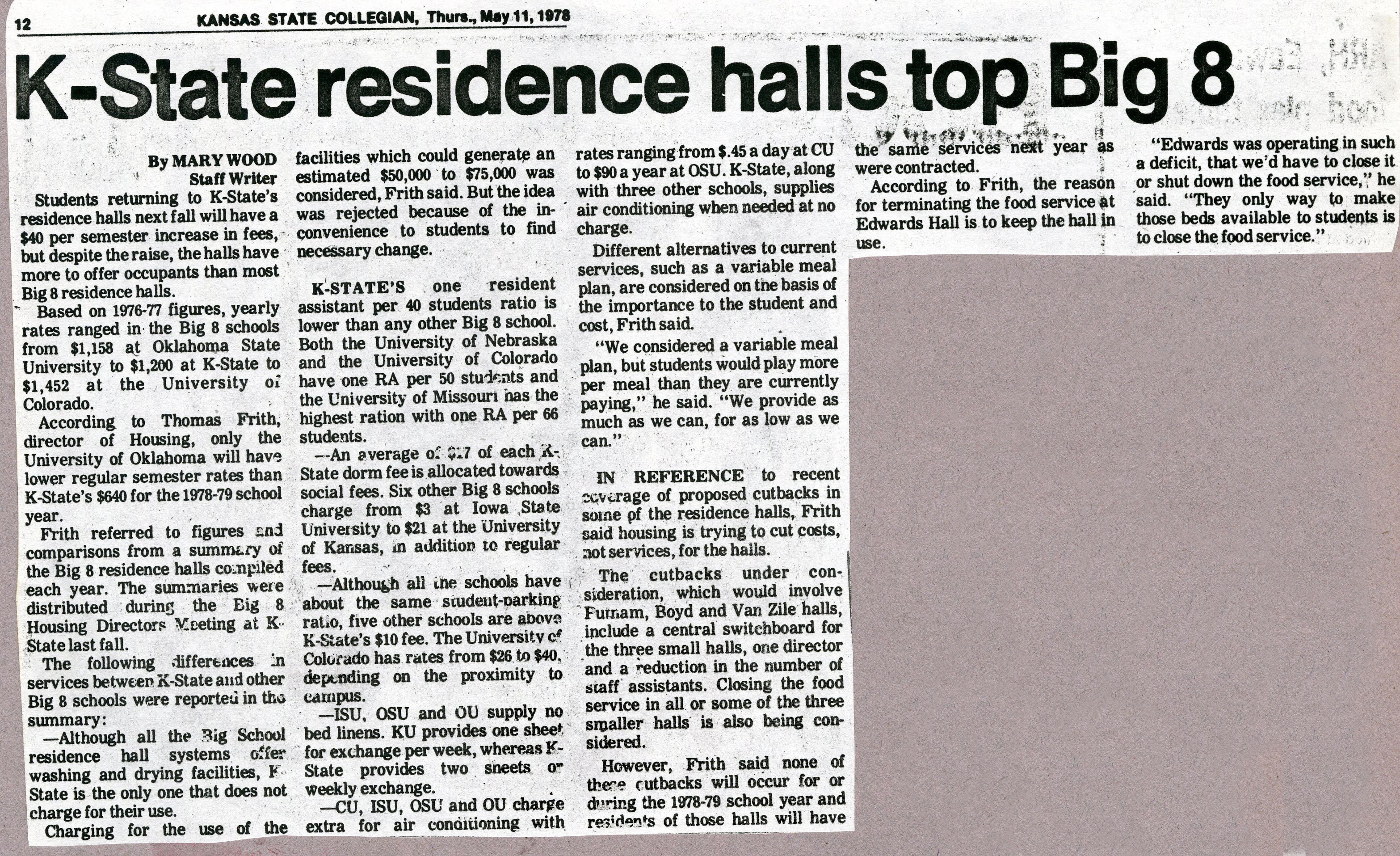 For the first time, certain floors were designated non-smoking. (Larger image)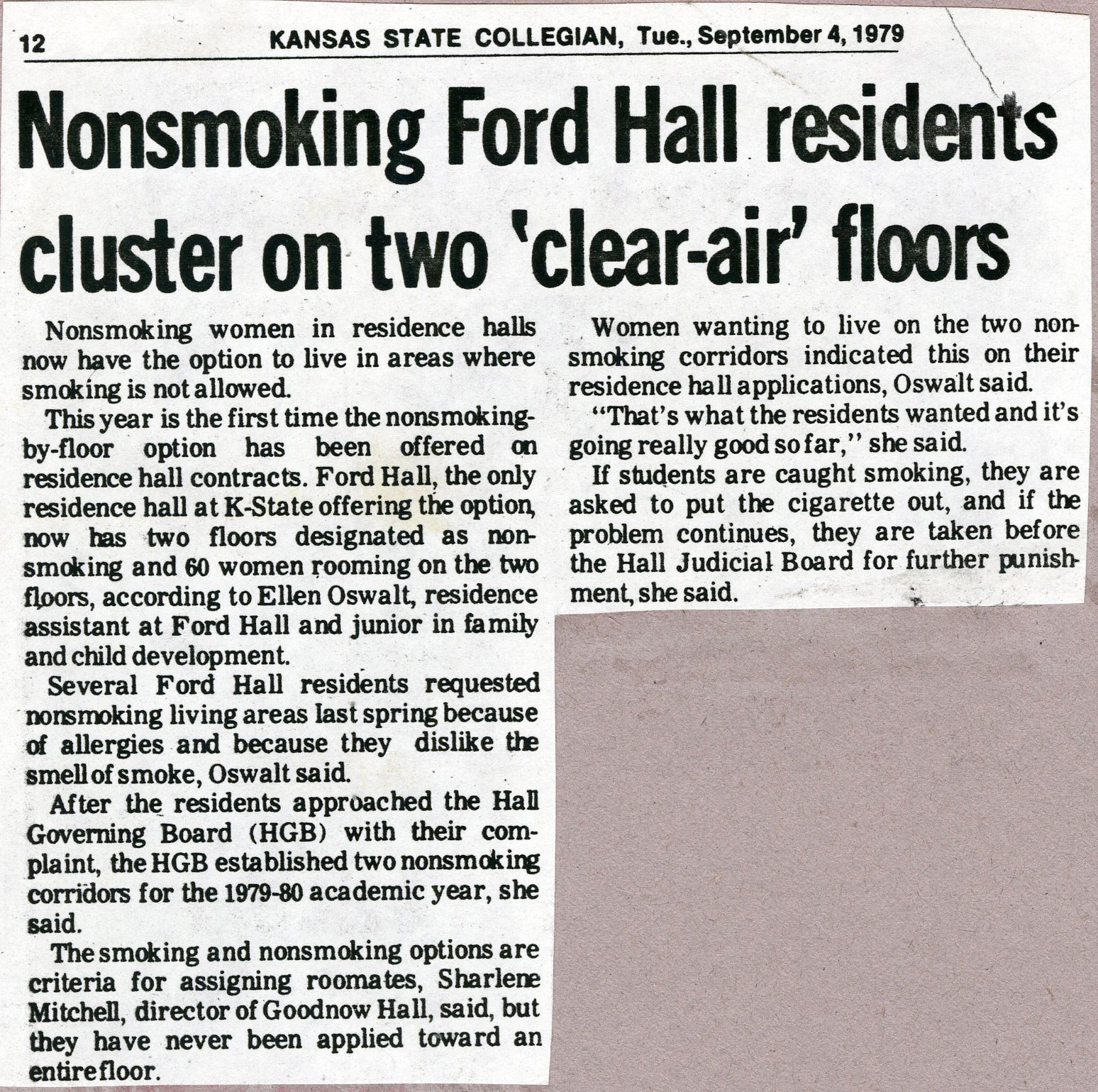 Residents raced beds for fun.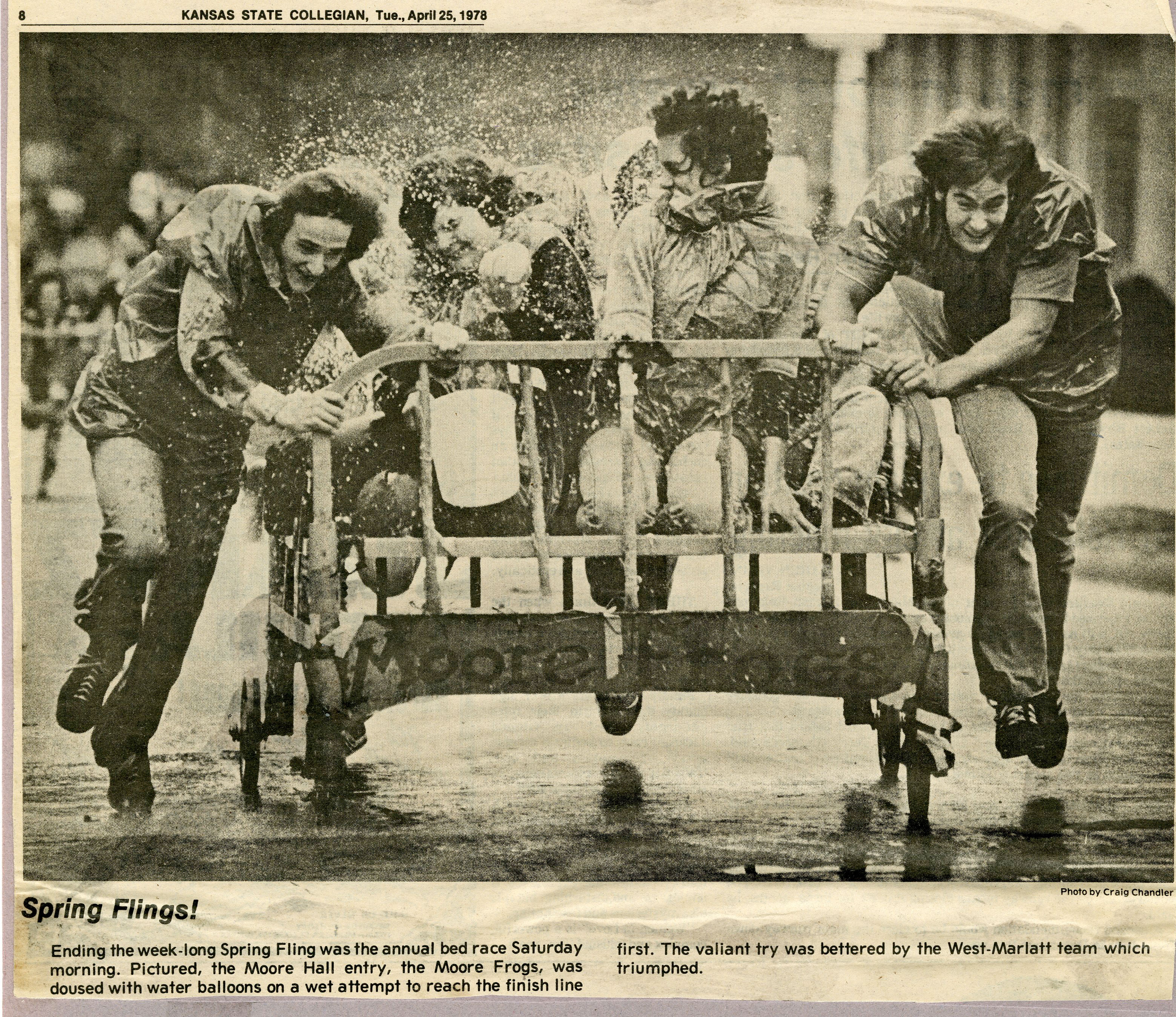 And rode mechanical bulls.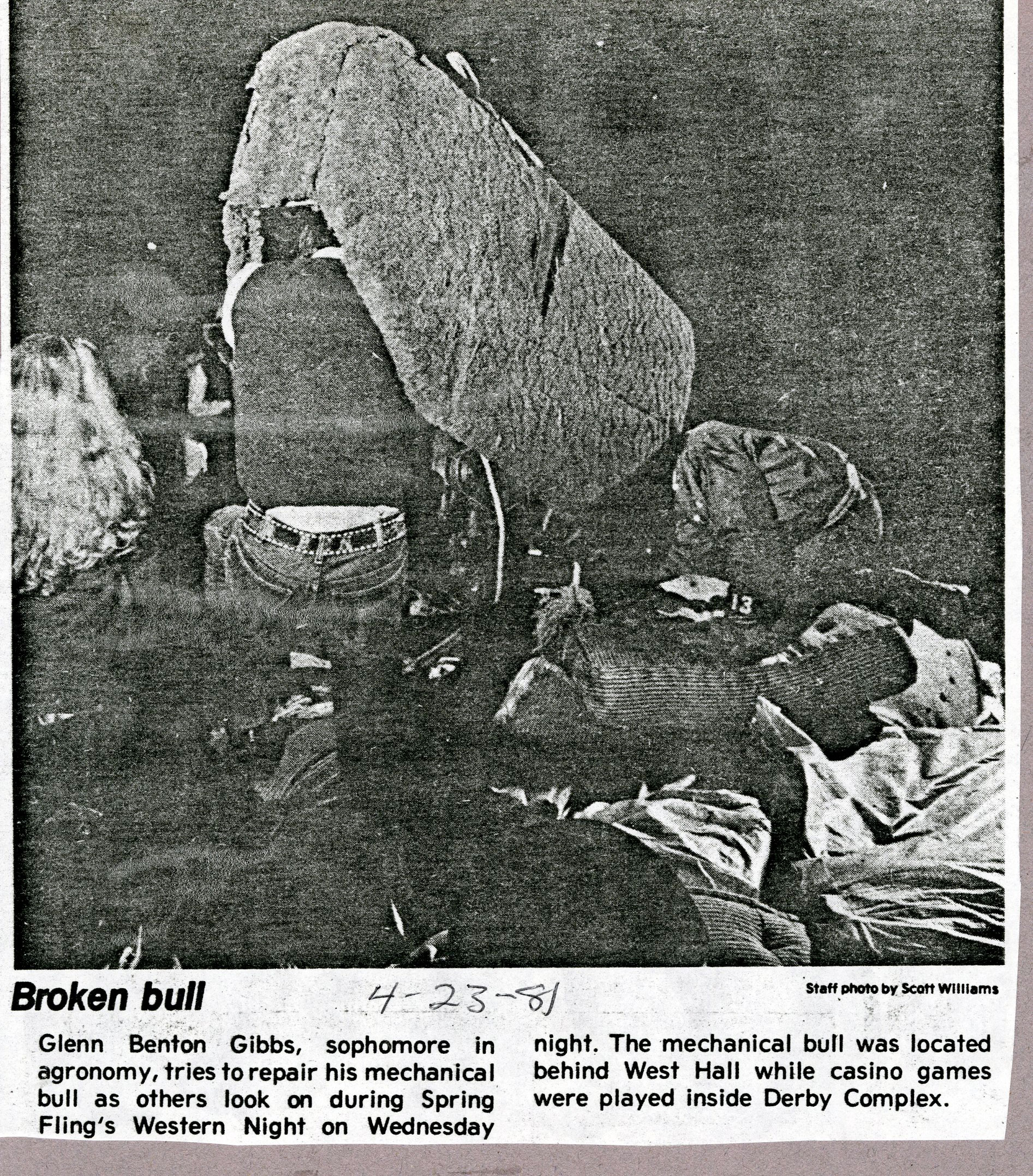 Oh, and they blew off steam in the dryers. (Larger image)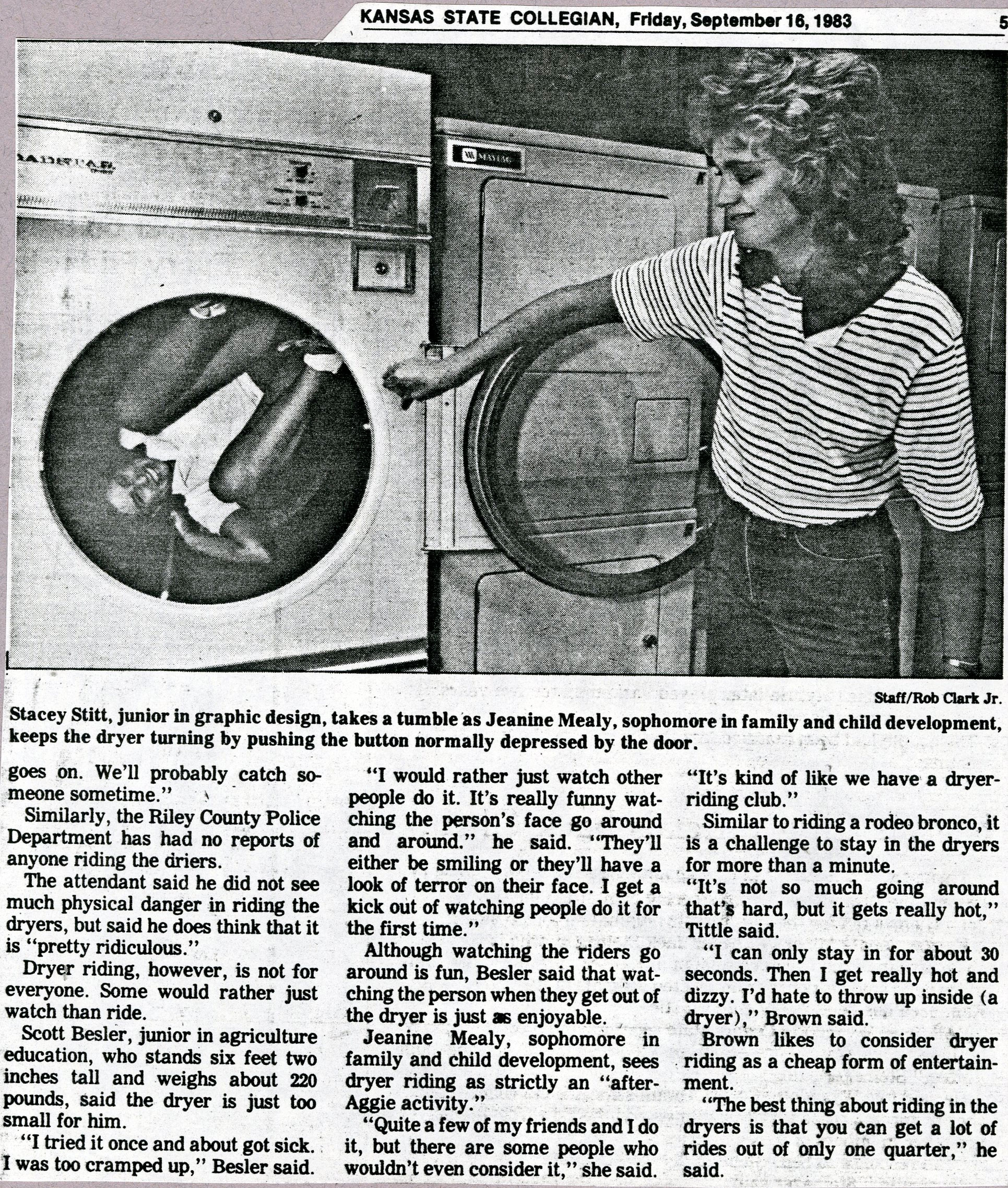 A year of housing cost $1,700! (Larger image)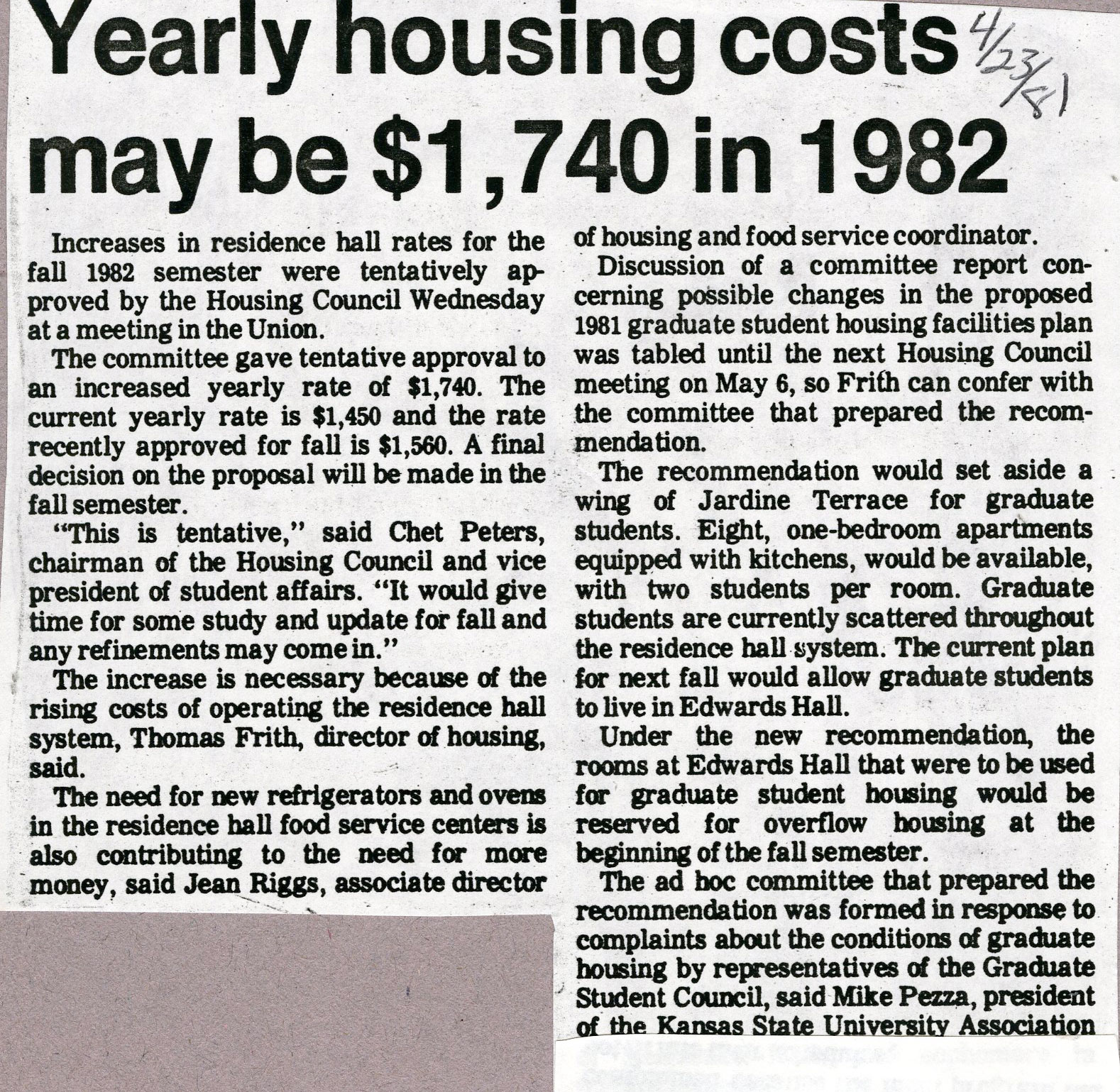 We entered the digital age. (Larger Image)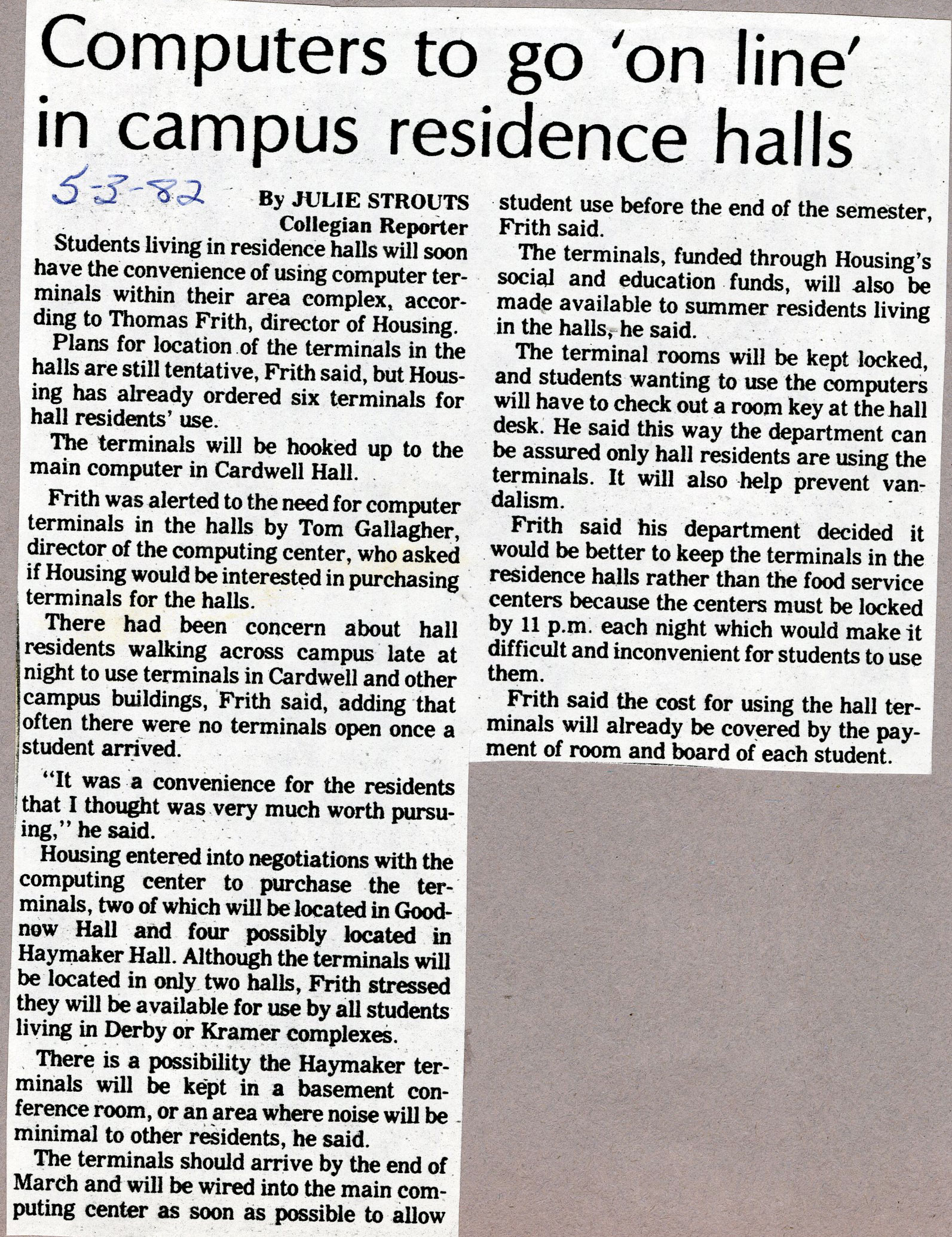 And renovated Jardine Apartments. Sound familiar? (Larger image)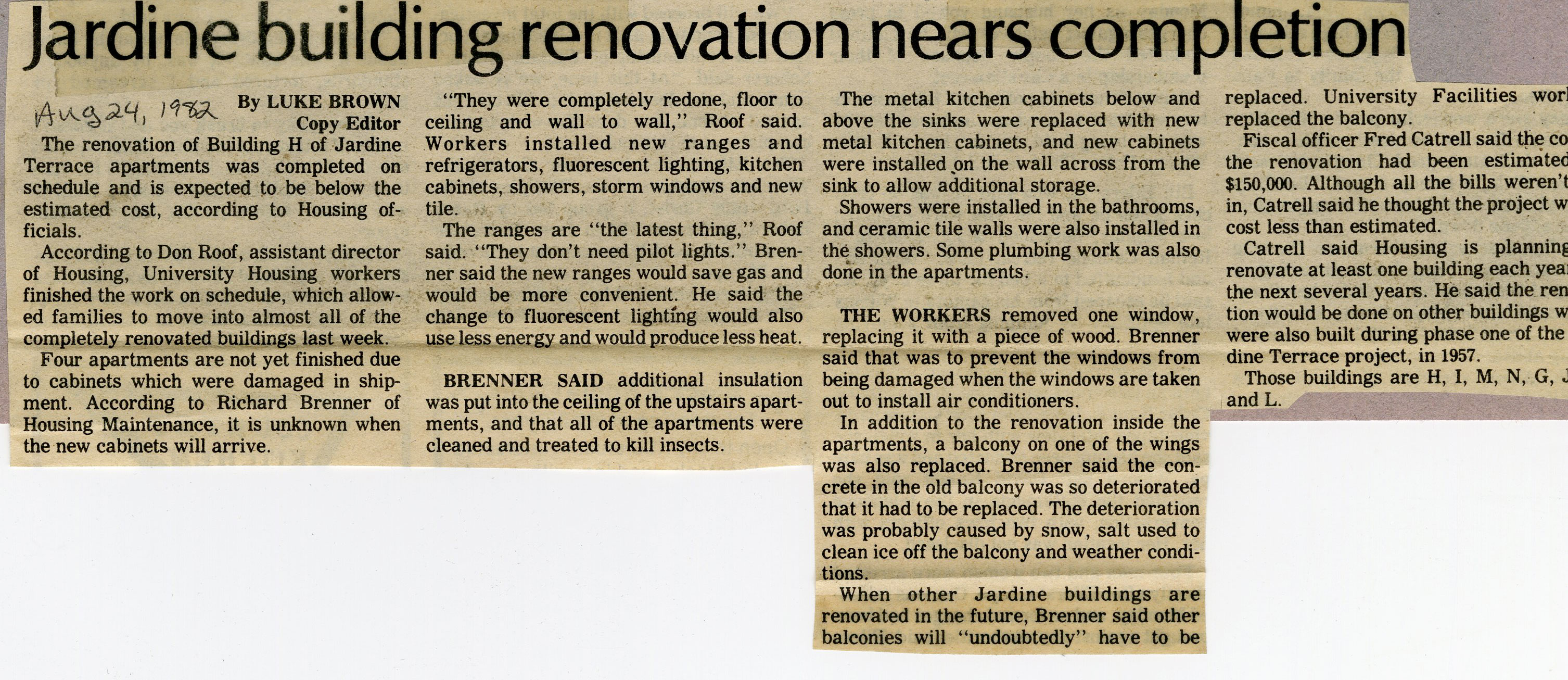 And yet, that barely scratches the surface! Feel free to stop by the Pittman building to view the scrapbook and see more from this time in our department's history.


Charles Werring, 1990-2011
Coming soon.