Housing and Dining Services
Move-In Day Is Here!
The residence halls officially open for occupancy at 10 a.m. Saturday, Aug. 18. For a variety of reasons, some students need to be on campus before this date. Housing and Dining Services will allow you to move in to your permanent assignments anytime after 10 a.m. Sunday, Aug. 12, for an additional per-day fee of $45. Contracts for students who arrive early begin at time of check-in.
We have created a plan in partnership with campus police to make traffic flow efficiently on Saturday, Aug. 18. Please review the specific directions for your residence hall and remember to bring the placard and temporary parking pass that was mailed to you July 30.
You can reduce move-in stress by avoiding Saturday, or by moving in after 7 p.m. from Aug. 12 through Thursday, Aug. 16. If you choose to move in after 7 p.m. on these days, the $45 early arrival fee for that day will be waived. All check-ins on Friday, Aug. 17, will incur a $45 early arrival fee. No check-ins will be permitted from 9 p.m. Friday, Aug. 17, to 10 a.m. Saturday, Aug. 18.
Addresses for each residence hall can be found on our residence hall pages.
Looking For a Job?
Are you looking for a great campus job? Our dining centers and retail operations are currently accepting applications and schedules for the fall semester.
Dining Services offers competitive wages and flexible hours that work with your class schedule. Visit our
employment page
to learn more and apply.
Many of our most frequently asked questions are covered in our Resource Guide (PDF)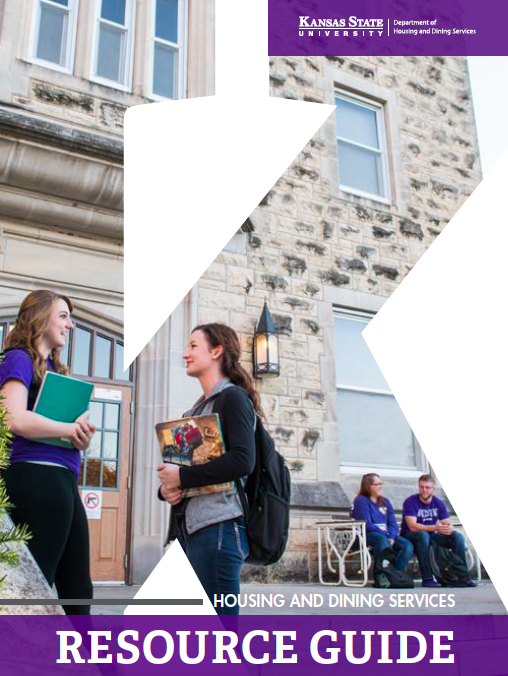 You can find more information about our services on our living options page.
You Are Welcome Here
Students, faculty and staff joined together for the K-State Unity Walk on Tuesday, Nov. 14, 2017, where we reaffirmed who we are, what we value and what we stand for as the K-State family. Read the Principles of Community and learn about the diversity offices available to students.
Stay current on related news and events at K-State by subscribing to the KSUnite Weekly enewsletter, which is published on Mondays.