Housing and Dining Services
Our residence halls are filling up fast! If you're interested in
living on campus this year, please call Housing and Dining
Services at 785-532-6453 to be placed on the waiting list.
Start Preparing for Move-In Day Now
Moving in to the residence halls, the Living Community at Jardine, the Honors House or Smurthwaite on Saturday, Aug. 23? We've created these routes to reduce backup on Manhattan's busiest streets. Please take a moment to review these before setting out on your way to your new home.


If you or a member of your family didn't pick up a copy of our Resource Guide For Students and Families at Orientation, please take a moment to review the information contained within. There are tips on what (and what not) to bring, maps to help you find your way around on move-in day, important dates to remember and more. We can't wait to welcome you home!
---
Enter the Rate My Room Contest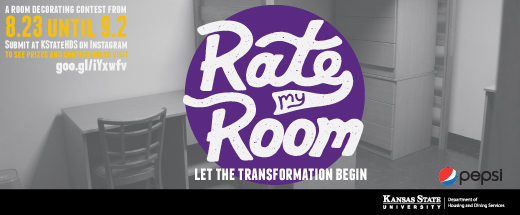 As soon as you've moved in and unpacked, begin decorating your new space and show us how creative you can be! Upload a picture or a collage of pictures of your room to Instagram and we'll repost it. Get all of your friends and family to favorite yours, and who knows? Maybe you'll be our new winner! Check out the list of prizes from HDS and our sponsor, Pepsi.

Prizes

Laundry for a year

Football signed by Coach Snyder


Pepsi products (one-year supply)

Go-Pro camera

Bluetooth speaker

---
2014-2015 Housing Assignments
Several rounds of housing assignments have gone out with more to come, so be sure to watch your K-State email. Assignments will be made every Friday until classes begin in August.
If you would like to make a change to your contract — such as to change your meal plan or add permission to stay in the halls during university breaks — you may do so by submitting the contract change request form (PDF).
If you have decided you no longer want to live on campus at K-State, you may cancel your housing contract by completing the online cancellation form using your K-State eID and password, or print a PDF to sign and return to our office. The online cancellation option is the fastest and easiest way to complete this process. Cancellations at this time are subject to a $200 cancellation fee. Cancellations after Aug. 17 are subject to additional fees depending on your move-in date. See your contract for details regarding other cancellation policies and deadlines.
If you have questions, please feel free to call us at 785-532-6453.