Housing and Dining Services
Vote for Your Favorite Room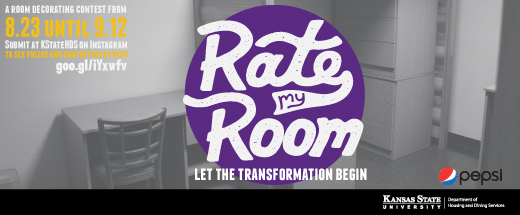 The Rate My Room contest is up and running! You can still upload a photo of your room to our Instagram account; likes will be tallied on Sept. 12. Even if you're not planning to enter, go take a look — you may get some ideas for your space!

Learn more.

(And don't forget to complete the entry form if you wish to enter!)
---

---
Take the MAP-Works Survey
Each year, all incoming freshmen are asked to take a non-confidential survey regarding their transition to college life at K-State. The survey is part of a program known as MAP-Works (Making Achievement Possible), which was developed to ensure students receive the resources they need to overcome potential first-year struggles and continue their education into the sophomore year and beyond.
A link to the MAP-Works survey will be emailed to you on Sept. 15 and will include questions pertaining to academic, social, emotional and financial well-being.
You'll have until Oct. 6 to complete it. Survey data will be made available to K-State faculty and staff who are specifically connected to you. Those faculty and staff can then follow up with assistance if you're struggling.