Housing and Dining Services
Housing and Dining Services Announces New Residence Hall and Dining Center
In an effort to meet increasing demand for on-campus housing, the department has announced plans to add a new residence hall and dining center on the west side of campus. The $70 million project is set to conclude in time for the fall 2016 semester.
---
Composting Program Earns Waste Reduction Award
Over the past few years, Housing and Dining Services, the Department of Agronomy, K-State Recycling and the K-State Student Union food service have worked as a team to reduce food waste at K-State. As a result, K-State has been named a winner of the EPA's Food Recovery Challenge, which is part of the agency's WasteWise program. The award presentation will be held in the Kramer Dining Center lobby at 2 p.m. Thursday, May 9, and will be open to anyone who would like to attend.
---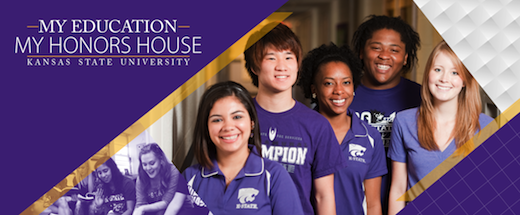 Announcing the New K-State Honors House
Housing and Dining Services is pleased to announce that in August, students participating in the University Honors Program will have an exciting new housing option: a newly renovated coeducational residence hall known as Honors House.
The house is located a short walk west of campus, and offers resources and amenities similar to those found in the current on-campus facilities (plus a few added benefits!). In addition to free wireless Internet, free laundry, a meal plan, leadership opportunities and more, Honors House residents will enjoy the advantages of a focused living environment with an emphasis on community development and academic success.
Proximity to campus, award-winning staff and dining services, social and leadership opportunities, a recently renovated living space with large areas for group or individual study sessions ... what are you waiting for? Space is limited, so don't procrastinate.
Access the applications and learn more about Honors House.
Questions can be directed to Andy Thompson at 785-395-3936 or the Housing and Dining Services office at 785-532-6453.


---
We're Hiring
Need a job for the 2013-2014 academic year? Housing and Dining Services is currently accepting applications for academic resource assistants and academic resource center tutors. Students in these positions have the unique opportunity to help on-campus students achieve their academic goals. Check out the position descriptions located on our employment page to learn more.


---
Summer School Housing Update
Housing for those taking summer classes will be available in the Living Community at Jardine Apartments from May 19 to August 16. If you're interested, please contact Housing and Dining Services at 785-532-6453 or in person at 104 Pittman Building.
You must be enrolled in summer or intersession classes to live in summer housing. Upon completion of a contract, you'll receive additional information via email.

---
Current Residents Who Wish to Return for 2013-2014
On-campus housing contracts were due Friday, March 1.
If you wish to live on campus next year but didn't participate in the RSVP process, or if you didn't complete the contract by last Friday's deadline, please visit the Housing and Dining Services office at 104 Pittman Building to inquire about the options available to you. Space cannot be guaranteed at this time.
New Student Applicants
Incoming students who applied for for housing in K-State's residence halls are able to complete the 2013-2014 contract and submit the $400 payment at this time.