Housing and Dining Services
Housing Contracts Deadline Extended
If you're returning to K-State next year and have not yet completed your contract for housing in the residence halls or the Living Community at Jardine Apartments, you're in luck: We've determined that we have a limited number of additional spaces available for next year.

Please contact the Housing and Dining Services office at 785-532-6453 if you still want to live in one of these communities. This will be a first-come, first-served opportunity and spaces are limited, so be sure to contact us as soon as possible.
---
On-Campus Housing for Summer 2014
If you're taking classes this summer and need a place to live, summer housing applications are available now. There is no fee to apply. Accommodations will again be located at Jardine Apartments.

When your application is received, a contract will be mailed to the address provided. Call the Housing and Dining Services office at 785-532-6453 for more information.
---
We're Hiring!
Housing and Dining Services is hiring for two undergraduate student positions: academic resource assistant and cultural and diversity advocate. Check out the position descriptions to see if you have what it takes.
Visit our employment page regularly to see what's available.
---
Campus Close-Up in K-Stater Magazine
The Department of Housing and Dining Services was the topic of a Campus Close-Up in the Spring 2014 issue of K-Stater Magazine. If you haven't already, take a look — there are details about the new residence hall and dining center, along with some information you may not have known about the partnerships we as a department have worked hard to maintain across campus. These partnerships allow us to offer more resources to support our residents as they pursue their degrees.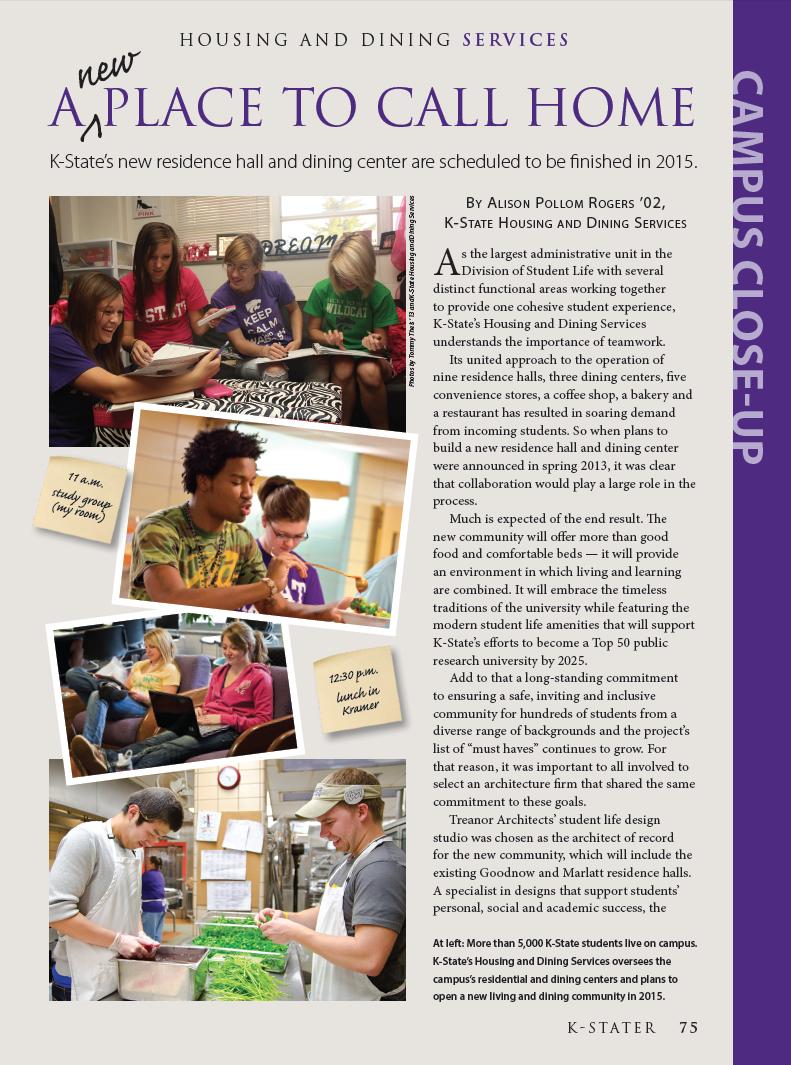 Click to view. (PDF)