Residence Halls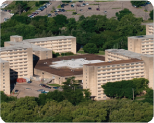 Residence Halls
Derby Community
The Derby community is the largest residence hall/dining center unit on campus.
Each hall in the community is connected to Derby Dining Center by an enclosed hallway.
The community is home to The Bakery in Derby Dining Center and Quik Cats convenience store in Moore Hall.
Residents have convenient access to sand volleyball and basketball courts, plus the Derby Academic Resource Center that provides students with study space, a computer lab, tutors and more.