Residence Halls
Derby Community
The Derby Community is home to the largest number of students on campus.
Each hall in the community is connected to Derby Dining Center by an enclosed hallway.
The community is home to The Bakery in Derby Dining Center and Quik Cats convenience store in Moore Hall.
Residents have convenient access to sand volleyball and basketball courts.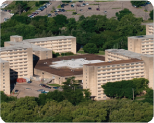 Kramer Community
The Kramer Community is located on the west side of campus across the street from Lafene Health Center.
Students living in the community eat at Kramer Dining Center , which includes its own Quik Cats convenience store.
The department's newest facility, Wefald Hall, was finished in 2016.
Residents have the use of a sand volleyball and basketball courts.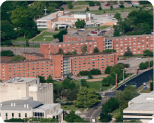 Strong Community
(Closed, 2023-2024 Academic Year)
The Strong Community is a trio of halls that is home to more than 550 students.
Students in this community have access to study areas, computer stations, a game room, TV rooms, several lounge areas and a basketball court.
All three halls are linked by enclosed walkways.