Marlatt Hall

Overview
Marlatt is a coeducational hall located in the Kramer Community on the west side of campus.
Marlatt houses approximately 600 students on seven floors.
Standard and suite-style rooms are available at Marlatt.
University break housing (a contract that allows students to remain in the hall during university breaks) is available in Marlatt Hall.
Marlatt Hall
785-395-3411
Marlatt Hall
Kansas State University
1855 Claflin Rd
Manhattan, KS
66506-1800
Map
Amenities
Standard
A dresser, desk and loftable bed with mattress for each resident
24-hour front desk
Campus and 911 telephone service
Computer lab
Study rooms
Piano
TV room(s)
Game table(s)
Exercise/weight room
Equipment checkout
Community kitchen
Quik Cats convenience store (located in Kramer Dining Center)
Cornerstone Coffee & Bakery (located in Wefald Hall lobby)
Overtime Grill after-hours restaurant (located in Kramer Dining Center)
Floor plans
Standard living options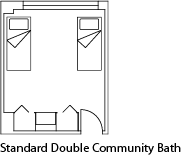 Suite-style living options