Residence Halls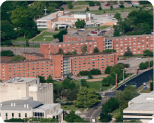 Kramer Community
The Kramer community is located on the west side of campus across the street from Lafene Health Center.
Students living in the community eat at the multi-platform, state-of-the-art Kramer Dining Center.
The department's newest facility, Wefald Hall, represents the future of on-campus living with its focus on learning and community connection.
Residents have the use of basketball and sand volleyball courts.