Residence Halls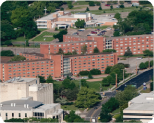 Kramer Community
The Kramer community is located on the west side of campus across the street from Lafene Health Center.
Students living in the community eat at Kramer Dining Center, which includes its own Quik Cats convenience store.

The department's newest facility, Wefald Hall, is scheduled to be finished in time to receive students for the 2016-2017 academic year.

Residents have the use of sand volleyball, tennis and
basketball courts.