Marlatt Hall

Overview
Marlatt is a coeducational hall located in the Kramer Community on the west side of campus.
Marlatt houses approximately 600 students on seven floors.
Standard and suite-style rooms are available at Marlatt.
Continuous housing (a contract that allows students to remain in the hall during university breaks) is available in Marlatt Hall.
Did you know?
Our residential networking (ResNet) team can assist you with network registration, connection issues and technical support for your computer.
We can help you find the perfect roommate through our Lifetopia matching system. Click below to learn more.
Scholarships, grants, loans and more are available through the Office of Student Financial Assistance.
K-State offers medical care to students through Lafene Health Center.
K-State's recreation complex offers intramural sports and a full-service fitness facility.
Marlatt Hall
785-395-3411
Marlatt Hall
Kansas State University
Manhattan, KS
66506-1800
Amenities
Standard
A dresser, desk and loftable bed with mattress for each resident
24-hour front desk
Campus and 911 telephone service
Computer lab
Study rooms
Piano
TV room(s)
Game table(s)
Exercise/weight room
Equipment checkout
Kitchen
Quik Cats convenience store (located in Kramer Dining Center)
Floor plans
Standard living options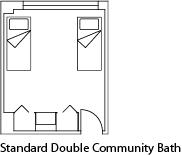 Suite-style living options