Live at Jardine Apartments
On-campus housing options at K-State include apartment-style living at Jardine Apartments . This choice offers many of the benefits of residence hall living, plus several of its own. Jardine's convenient location, skilled and reliable maintenance team and trained professional staff meet added independence, an optional meal plan and a broad range of apartment styles.
Current Jardine residents: Your Jardine agreement is good through June 30. All residents who wish to renew their agreement must complete the process below.
*There will be a $200 transfer fee per person for Jardine-to-Jardine transfers. This fee is not due at the time of apartment reservation. Exceptions:
Those who have experienced a life event and/or a change in family status (marriage or childbirth/adoption). This event must take place between July 1, 2024 and Dec. 31, 2025.
Any current Jardine resident moving to a Hybrid Apartment room.
What do you want to do for next year?
Learn more and compare housing and dining options with the Explore Your Options worksheet .
Need a Roommate?
K-State Housing and Dining Services is pleased to partner with RoomSync to provide a roommate matching program for on-campus K-State students. RoomSync allows users to create a profile, then search for roommates until they find the right match.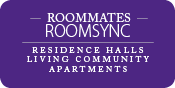 If you currently live in Jardine Apartments and will not be renewing your agreement, please complete an Intent to Vacate form . The form must be completed by May 1.
Stay protected. K-State will never ask for your password in an email. Any email that asks for your password is a scam. Delete it, even if it's from a K-State email address. Also, don't click on links in an email that you are not expecting.
Questions?
Call the help desk at 785-532-6453.
Available 8 a.m. to 5 p.m. weekdays.

housing@k-state.edu