Choose Your Experience: Live in the Residence Halls
The residence halls on campus provide an ideal living experience for students who seek a more community-focused environment. Residents have direct access to dining service, academic programs and resources, on-site laundry facilities and leadership opportunities. Plus:
Studies confirm that students who live in a residence hall at K-State experience greater academic success.
Classes and other campus resources are all nearby.
The halls are locked 24 hours a day, with resident-only key-card entry.
Living among fellow students provides opportunities to develop lifelong friendships.
View all the benefits of on-campus living.
Double as Single Rooms
We'll will offer a limited number of our double residence hall rooms as singles. In other words, a "double as single" room is a traditional two-person room for only one person. Students must pay an additional fee to guarantee they don't get a roommate for the academic year. Note that even if you select this option, the policies on guests and visitation are still in place.
What do you want to do for next year?
Keep Your Current Room.
Complete the contract (available Dec. 7) and submit the $230 payment.

If you have questions or concerns about the contract payment, please contact the Housing and Dining Services office for assistance.

Log in between Tuesday, Jan. 18 and Tuesday, Feb. 1 to pick your room.

Celebrate — you're done!
Select Another Residence Hall Room.
Beginning Tuesday, Feb. 15 until Thursday, March 31, returning students can start reserving a new room in the Resident Portal. Your specific selection start time is determined by the number of semesters that you have lived on campus with Housing and Dining Services.
6+ semesters: 9 a.m. Tuesday, Feb. 15
4+ semesters: 9 a.m. Wednesday, Feb. 16
2+ semesters: 9 a.m. Thursday, Feb. 17
Open call: 9 a.m. Friday, Feb. 18
You can enter the Portal and select anytime between the above dates and March 31. The longer you wait, the larger the group of students you'll be selecting among.
Want to live at Smurthwaite Leadership/Scholarship House or Honors House? Call the Housing and Dining Services Office at 785-532-6453 for information specific to these two locations.
Learn more and compare housing and dining options with the Explore Your Options worksheet.
House Hunters: Wefald Hall and Hybrid Apartments
---
Need a Roommate?
K-State Housing and Dining Services is pleased to partner with RoomSync to provide a roommate matching program for on-campus K-State students. RoomSync allows users to create a profile, then search for roommates until they find the right match.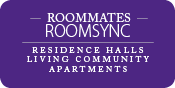 ---
Stay protected. K-State will never ask for your password in an email. Any email that asks for your password is a scam. Delete it, even if it's from a K-State email address. Also, don't click on links in an email that you are not expecting.
Questions?
Call the help desk at 785-532-6453.
Available 8 a.m. to 5 p.m. weekdays.

housing@k-state.edu