Where Should I Live?
Welcome To Some of the Best Campus Living in the Nation!
Once again our efforts have landed our housing and dining services in the top 20 nationwide! In the Princeton Review's "The Best 386 Colleges: 2021 Edition," K-State's residence halls ranked No. 20. Thanks to all who completed the survey, and congrats to our phenomenal, hardworking staff!
Something for Everyone
With ten residence halls, a large apartment community, one scholarship/leadership house for women and a house for honors students to choose from, we've got your housing needs covered.
In the Explore Your Options worksheet, you can shop around for the living and dining options that are right for you. The worksheet includes the various costs for the available room types, but you can view the residence hall rates at a glance as well.


Kansas State University Student Living Mission
We will support students by engaging in collaborative relationships that encourage scholarship, community and self-discovery. By creating intentional environments of quality and care, we will enable students, faculty and staff to achieve excellence.
Housing and Dining Services At a Glance
Learn about what Housing and Dining Services has to offer K-State students, from community descriptions to the many resources available to residents.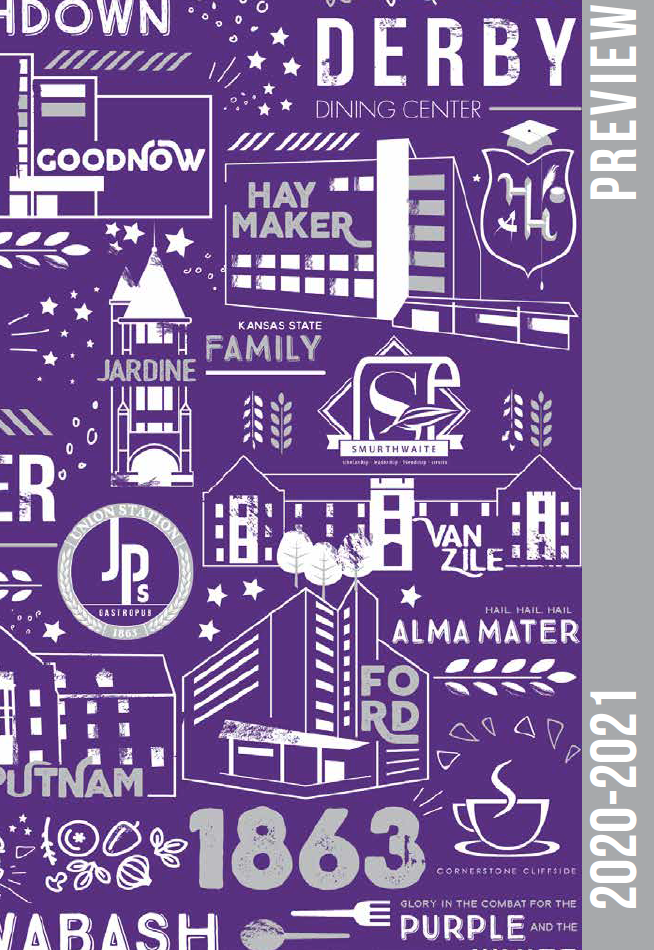 We recommend that you live in a residence hall during your first one or two years at K-State for a number of compelling reasons. Just a few:
Studies have shown that students who live on campus receive better grades and are more likely to finish their degrees.
On-campus living provides an ideal environment in which to transition from home to school. Students have direct access to dining service, tutoring programs, on-site laundry facilities, leadership opportunities and more.
Living among fellow students provides opportunities to develop lifelong friendships.
If you're interested in Smurthwaite Scholarship and Leadership House or the Honors House, please indicate so as a preference on the residence hall application.
Residential CAT Communities
Residential CAT Communities provide an added opportunity for first-year students to connect with others who share their academic interests by placing them in the same residence hall. Like our other CAT Communities, about 22 first-year students take a group of classes together, but they live, eat, sleep, study, and socialize near each other as well! Learn more.


Jardine Apartments may be what you're looking for if:
You're a single, undergraduate student enrolled in your second year at K-State, or a student transferring from another institution of higher education.
You're a married student, with or without children.
You're a single parent with primary custody or regular visitation of children.
You're a single, nontraditional student (at least 25 years old).
You're a student conducting postdoctoral research.
You're a visiting scholar.


Want some of the extra convenience of residence hall living, but like the independence of an apartment? Choosing a hybrid apartment allows you to live in one of our 3- or 4-bedroom Jardine apartments, but to rent by the room as an individual. This option allows apartment living, but on a 10-month lease like the residence hall contract.
No need to confirm roommates
Meal plan is optional
Private bedroom is furnished (bed, dresser, desk)
Living room is furnished
All utilities are included
Located just steps away from the Rec Center and sports complex
Eligibility
The Jardine Apartments Community is intended for students who are upper division, graduate, non-traditional, married (with or without children), or single parents. It's an environment best suited to students already acclimated college life. First-year students (incoming freshmen or transfer students for whom K-State is their first full-time academic institution) may be considered for a hybrid apartment if participation in an academic or extracurricular program provides them with substantial structure and support, thereby assuring that they are prepared to live more independently in this apartment-style environment. First-year students living in hybrid units are required to purchase a Jardine meal plan.


Any student who will be enrolled in classes or completing academic work at Kansas State University during summer is eligible for on-campus housing.
---
Stay protected. K-State will never ask for your password in an email. Any email that asks for your password is a scam. Delete it, even if it's from a K-State email address. Also, don't click on links in an email that you are not expecting.